Savage Pools & Patios Is Your Go-To Pool Specialists for Natural Swimming Pools In Central Ohio
We have the skill and vision to help you create a natural swimming pool oasis in your own outdoor living space! We are assisted to make these dreams come true through the partnership of Certified Aquascape Contractors.
If you can picture yourself transported to the Rocky Mountains or Yellowstone Park enjoying a natural crystal-clear swimming pool with thousands of beautiful acres around you, this may be the answer to your dream space.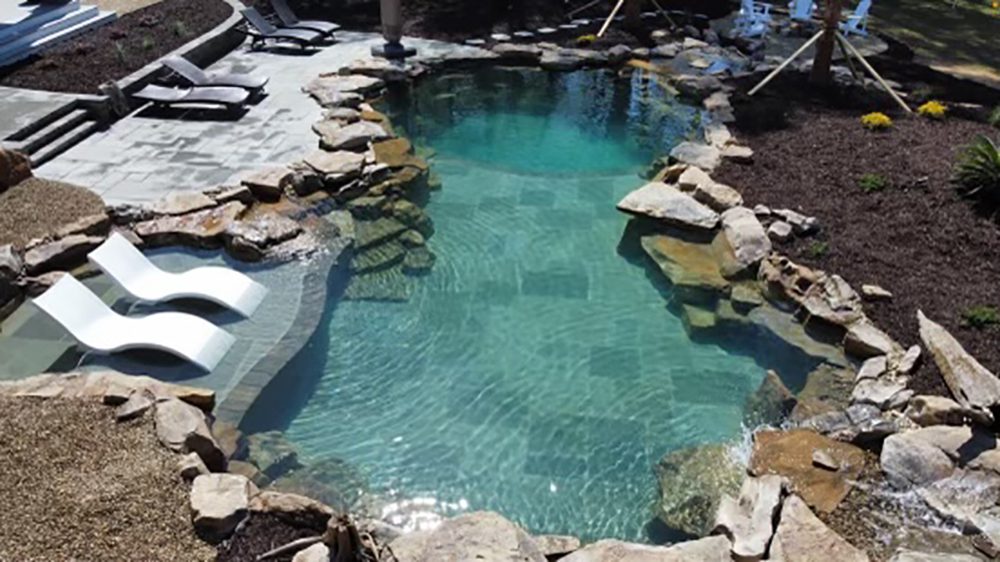 Natural Rock Swimming Pool
Envisioning a spectacular and unique design of a pool is exactly what you would be getting with a natural rock swimming pool. These pools are not only intended to transport you somewhere tranquil, but also provide the enjoyment of swimming or wading in a pool at your home! No two pools are alike with these designs. Waterfalls, wading, walk outs and many other special features are all possible with a natural rock swimming pool.
Natural Recreational Swimming Pond
A natural swimming pool or sometimes referred to a recreational pond is a great option that can be built to impress. Recreational swimming pools or ponds are built to work with the environment in harmony to provide you with a natural outdoor oasis to enjoy for years to come.
Benefits of Natural Recreational Swimming Pools
This option can be customized to the shape and size you desire with a high level of creativity. This pool can be built with a natural eco-system option with no chemicals added or you can do the same exact pool with a salt system and keep it treated. Fish and plants can be added the natural recreational pond but can't be added to the Natural Rock Swimming pool if you would like it to be treated chemically like most other swimming pools.