What Materials Work Best for a Patio Around my Pool in Knox County, Ohio?
The hardscape that encompasses a swimming pool are known by different names, including pool patio, deck, decking, and pool surround. Regardless of what one chooses to call the area, the likelihood is that they will spend most of the time on the pool patio rather than in the pool itself. For this reason, it is essential that the area is made of suitable materials that will make it easy for overall enjoyment.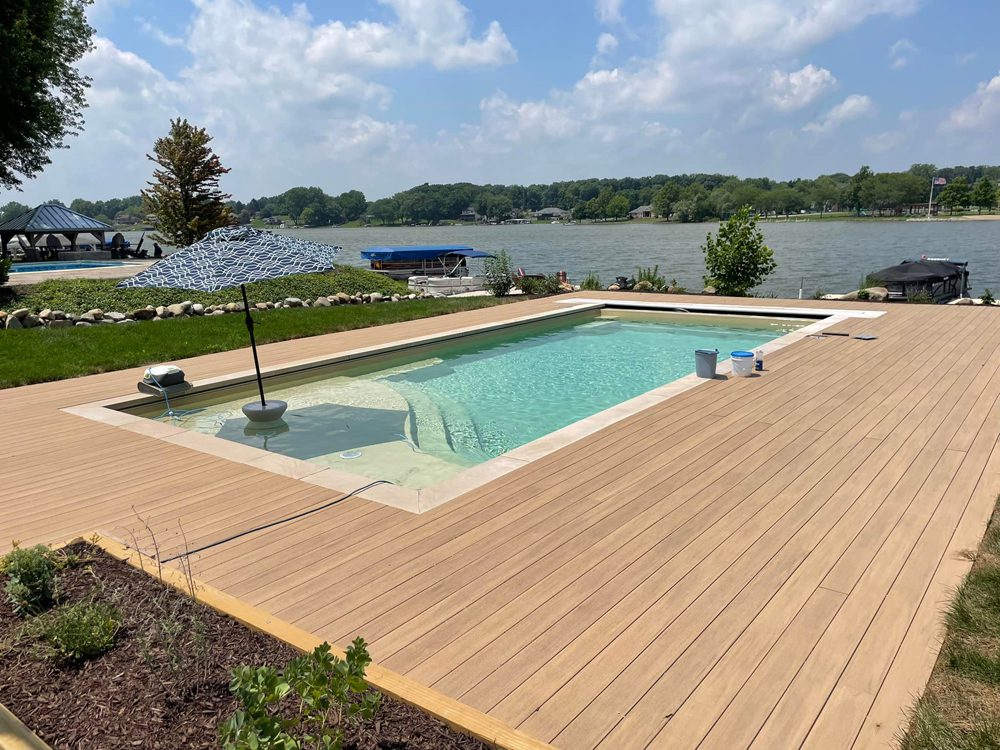 Poured Concrete
Due to its affordability, poured concrete is among the most preferred materials for pool decking. Broom finished concrete is an anti-slip option that is the most affordable option.  We suggest not doing stamped concrete around your pool because it is costly and gets slippery.  Pouring concrete around a pool is a skill that requires experience due to the small details involved in doing it correctly.
Brick
Brick or clay pavers, which have been used for centuries, are aesthetically pleasing and long-lasting materials used in pool decks. They have excellent color retention, so they don't fade quickly, making them ideal for achieving a uniform or patterned appearance. Clay bricks are more expensive than poured concrete. However, it is durable, consistent, and requires low maintenance.
Concrete Pavers
Concrete pavers are top-rated for pool patios due to their wide range of sizes, colors, and patterns that can be customized to fit individual tastes. Depending on the production technique, they come at various prices, making it easier for the user to choose a solution within their budget.  Pavers are NOT all the same.  They vary in strength, looks and applications so choosing the right paver for your application is crucial to the longevity of the product and space.  Paver joints will require a sand to fill the joints.  We suggest a wet sand application.
The price of pavers depends significantly on whether one purchases dry-cast or wet-cast concrete pavers. Dry cast concrete pavers tend to be on the cheaper end of the pricing spectrum, while wet cast concrete pavers options tend to be more expensive. Concrete pavers are easy to maintain, durable, and available in various sizes and colors. They are relatively easy to replace too.
Natural Stone
Natural stones have long been a preferred choice for patio pavers, giving the pool deck a beautiful, natural appearance. Remember that the cost of using natural stone pavers will vary depending on several factors, including the type of stone and whether you like a natural or uniform appearance. Natural stone offers a beautiful solution to your outdoor space and can be installed in a few different ways.  Natural stone can be installed over a concrete mud slab or on a Limestone compacted base.
Porcelain Tile
Porcelain tile pavers are also a great option around pools due to the beauty, durability, anti-slip and longevity. Please ask your salesman about our porcelain tile options.